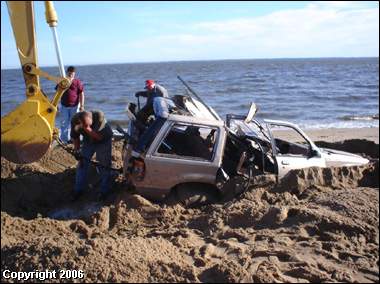 Warning: Not only is taking four-wheel-drive vehicles into coastal areas managed by the state illegal, it can also be hazardous to your automobile's health
One SUV owner discovered that the expensive way recently, when the vehicle got stuck at Woodland Beach east of Smyrna.
The owner abandoned the vehicle after unsuccessfully trying to tow it away, Department of Natural Resources and Environmental Control spokeswoman Joanna C. Wilson said in a statement.
When the tide came in, the vehicle was submerged, and the fire department was notified. Rescue personnel cut the top off to check for trapped occupants, and personnel from the state Division of Fish and Wildlife were contacted to remove the SUV, which was partially buried in the sand, using a large excavator.
Afterward, the owner was located and charged, and pleaded guilty to driving off the road and two related counts, the division reported.
The Division of Fish and Wildlife then issued a reminder that taking SUVs and other off-road vehicles into coastal areas managed by the state is illegal. On private property, a person wishing to drive a vehicle off-road must obtain the landowner's permission.
On property managed by the division, the law requires that vehicles stay on established roads, Wilson said. Violators can face arrest, fines and a very large towing bill.
Delaware state parks, meanwhile, offer limited off-road vehicle access -- by permit only -- to several park beach areas for the sole purpose of surf fishing.
Four-wheel-drive vehicles with permits may drive onto the beach only at designated dune crossings and must meet requirements that include carrying a tow rope or chain, and a board, jack and shovel.